Functions of the Pile Turner
Pile turners are available just as a turning unit or with airing, aligning and jogging function as semi-automatic or fully-automatic versions optionally. The following pages on this website give detailed information of all available models and options.
Turning – easy and comfortable
Turning is done by hydraulically lifting the pile to the horizontal position and subsequently rotating it through 180°. It replaces time-consuming manual handling.
Pallet changing
By pile turning the upper pallet can be changed easy by hand. By repeated turning the pile stands on the new pallet.
Airing – what can be achieved ?
Dust removing -

An important process before printing to achieve better print quality - absolutely essential for the board converter.

Separation of cutting edges -

To avoid mis-feeds. The complete pile is filled with an air cushion between the sheets.

Conditioning -

The pile is provided with the optimum temperature and humidity.

Removal of spray powder -

Removal of surplus spray powder after printing – an advantageous process for finishing.

Drying -

Ink and varnish is quickly dried after printing. Heat inside the pile is reduced.

Odour neutralizing -

Important for food packaging.

Airing with ionised air

Ionisation reduces the electrostatic charge which may affect the finishing process of coated and printed paper or plastic foil.
Aligning the pile
The pile is aligned against the aligning gauge in the tilted position with high volume airing. Bad sheets can be removed without a problem – depending on the thickness of the material.
Jogging
The ideal support to speed-up perfect alignment of the pile - in the tilted position with high volume airing.
Sheet pulling
Single sheets (e.g. damaged sheets or wastepaper) can be pulled from the pile at the already ventilated area on the rear side of the machine. For this the swivelling control panel is placed at the rear side.
Centreing the pile
The pile can be centrally aligned on a larger-sized pallet without problem.
Preferences of a Busch Pile Turner
Two model series are available –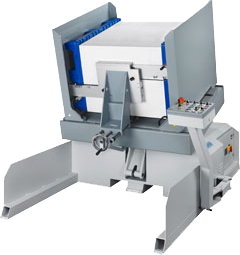 and the SPEEDTURNER® SWH series for high demands.
the efficient low priced SE series
With decades of experience, Busch guarantees perfect engineering
Top quality modern design
Large range of model variations
Embedding in the floor or fixing to the floor is unnecessary
An optimal hydraulic system (counter torque lowering valves and absorbtion at the lower swivelling range) and a powerful airing system
Blowers for the airing system are integrated in the machine body
The platforms allow the use of all sorts of transport and machine pallets.
Loading and unloading is made from the wide side
The clear aluminium control desk can be fitted on either side
The control desk is slewable (on turners with airing) which facilitates the control at the front and rear of the pile during airing
Models equipped with pressure control flaps ensure that the pile is not compressed, so that the air cushion is preserved in the pile – important for finishing printed sheets!
Individual control of air jets (at the control desk), which move solely within the paper sector of the pile
Regulation of air jet speed and air volume (at the control desk)
The optional equipment with ionised air reduces the electrostatic charge of paper and plastic foil
The aligning gauge adapts to the pile height automatically by integrated pneumatic springs. Additionally the unit can be placed at the paper edge on bigger pallets.
The integrated programmable logic controller (PLC) enables automated airing processes and hydraulic functions as well as a clear fault diagnostic at the display (on all turners with airing)

Pile turners of SWH series with airing include pressure control flaps as standard. The aligning gauge is adjustable according to sheet width and adapts to the pile height automatically. The jogging intensity is adjustable at the control desk. Air jets are travelling just under the respective pile height. Alternatively it is possible to pre-select the number of air jet travels (start and stop) to enable an airing process without the presence of an operator

Taking into account all possible options - a wide spectrum is achieved for processing paper and board with extreme variations in quality.

The Busch pile turner speeds up the printing and finishing process

The press can run permanently at high speed

The pile turner needs less than 1 minute for turning a pile

and 4-5 minutes, on average, for turning, airing and jogging the pile

Any employee can operate the pile turner